Magnetism separation equipment in coal praperation application
Product Description
The practice of using magnetic separators to collect ferrous metals from process stream had a long history in mining industrial.the first application and the most prevalent application today is the removal ferrous tramp from conveyor belts. This is a straightforward application suspending an electromagnet over the conveyor belt.
Coal must be clean and free of ferrous contamination. Coal can be contaminated with ferrous materials such as drill bits, hammer heads, rods, bucket teeth, etc. This unique coal preparation magnetism separators remove tramp iron from conveyed material in order to protect downstream equipment.
Standard Features and Benefits for high intensity industrial electrical magnet :
With the computer-simulating design of magnetic circuits, it has high magnetic force strength, large gradient and suction.High-performance materials,Stable magnetic quality and ease of use

With special design of exciting coils, it has longitudinal and latitude cooling oil paths. The heat can be easily transformed to the cooling oil to lower the coil temperature.

The special designed wholly sealed coils are moisture-proof, dustproof and corrosion prevention.

The corrugated heat-releasing wings enlarge the cooling area and effectively control the temperature rise.

Easy maintenance, self clean iron wastes, robust performance.

The waist-drum shape roller can rectify the belt automatically. With the wholly sealed bearing blocks, it can achive trouble-free operation for a very long time.

With near and remote control system, it has a wide application. Mounted above the conveyor belt at a distance of 100-350 mm, depending on the height of the layer of material to be processed
Specification for electromagnet separator who used in coal mining processing industry to protecte downstream equipments :
Item

Suitable for

Belt Width

Suspedned

Height

Magnetic

Intensity

Motor Power

Exciting Power

Dimension

mm

Weight
mm
mm
Gs
kw
kw
L
W
H
kg

RCDF-6

650

200

700

≤5

1.5

2250

1050

905

1390

RCDF-8

800

250

700

≤6

2.2

2395

1240

950

1850

RCDF-10

1000

300

700

≤9

3.0

2750

1520

1005

2710

RCDF-12

1200

350

700

≤10

4.0

3210

1715

1100

3550

RCDF-14

1400

400

700

≤11

4.0

3610

1820

1250

4450

RCDF-16

1600

450

700

≤12

5.5

4010

2040

1410

6550

Working principle for high performance tramp iron magnetic separation machine
The magnet removes tramp metal that represents a potential hazard to downstream crusher,mills, pulverisers and grinders,the magnet can also be mounted over feeder or chutes.

Application for suspended magnetic separator
Overbelt magnetic separators can be used for recovery (recycling) of ferrous particles as well as for the separation of undesired iron parts (iron pollution)
And many overband magnetic separators/self-unload iron remover be used for protecting the machinery, such as crushers at quarries, cement plants, and mines. Our magnets also find their applications in industries like glass, plastic, foundries, iron and steel etc. suitable for the continuous removal of ferromagnetic (Fe) particles - such as iron or steel - from material streams containing a relatively large amount of Fe.
we can design and manufacture complete metal recycling line or simply furnish eddy current magnetic nonferrous metal separator/sortor or any other piece of magnetic separation/recovery equipment:
Over-belt electromagnetic separator

Over-belt magnetic separator

Magnetic block

Eddy current separator

Magnetic pulley

Magnetic drum separator

Magnetic plate

Magnetic cone separator

Grate magnets

Magnetic filter

transport and handling system such as belt conveyor/trommel drum screen/vibrator feeders

other sorting type equipment:such as zigzag air classifier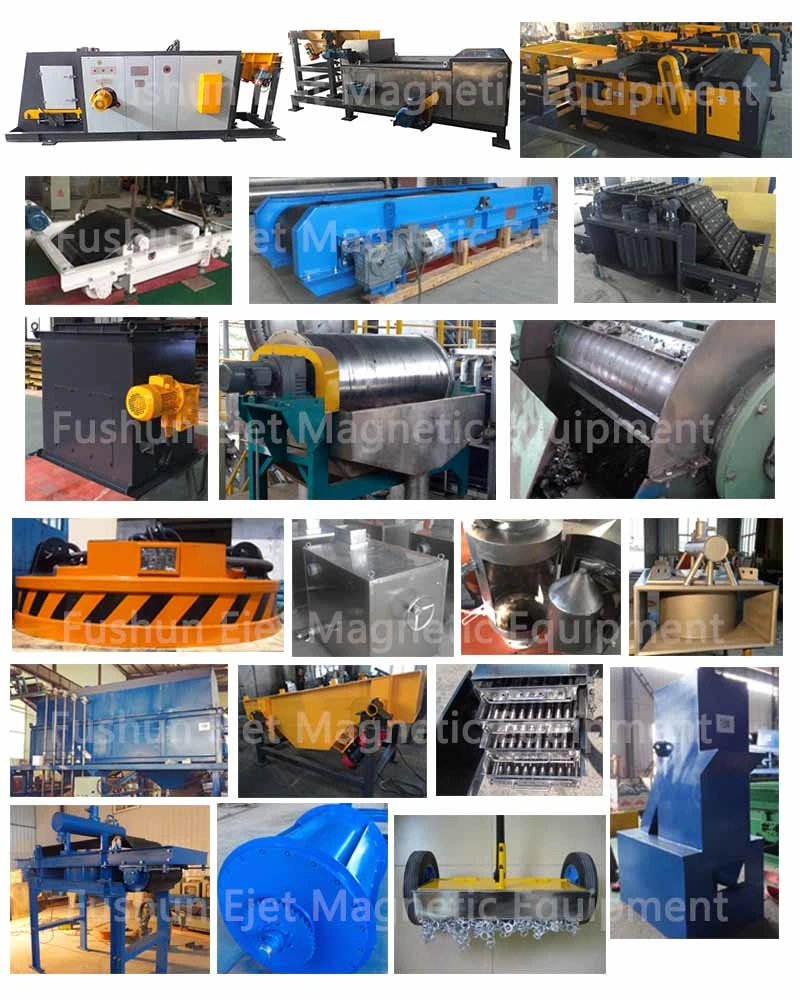 Please Contact Miss Jasmine Song :
Fushun Ejet Magnetic Equipment Co., Ltd
NO.23 Pacific Industrial City,Economic Development Area
Fushun City,Liaoning Province,China