Gold mining equipment gravity separator fiberglass gravity spiral chute for separating washing sand placer alluvial gold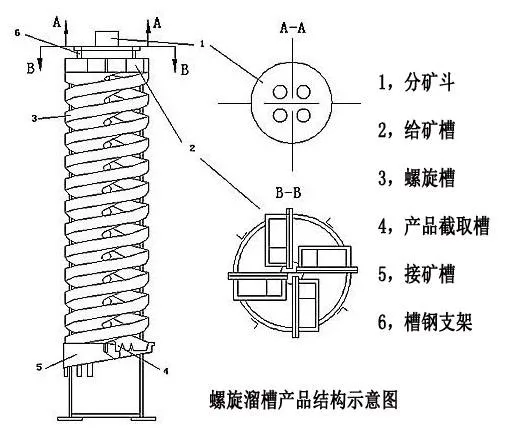 Spiral chute for chrome is our company's concentrating experienced scientific product, which is the best concentrating equipment, especially for concentrating sand ore in beach, riverside, seashore and stream.
Widely applied in separation of ore size 0.3 to 0.02mm fine minerals like iron ore, titanium ore, chromite, pyrite, rutile, zircon, monazite, P B ore, tungsten, tin, tantalum ore, niobium ore and other low-grade ore and non-metallic minerals which have a big enough specific gravity difference.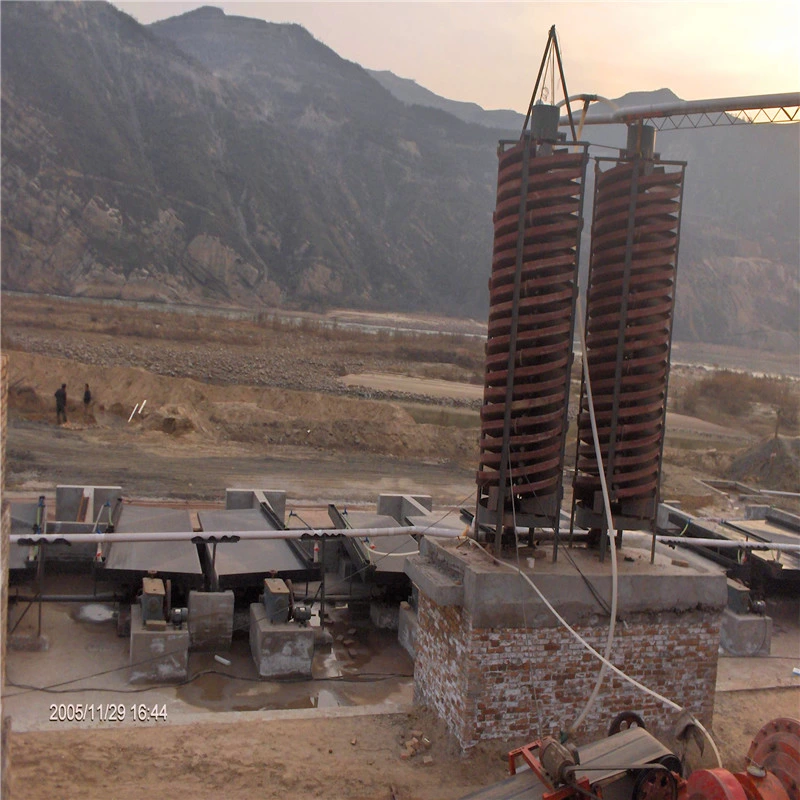 Pay attention to the picture above: it's a gravity separating production line. pictures shows the spiral chutes and shaking tables. After first gravity separating by the spiral chutes, some essence mineral are separated; The shaking tables could seprate the rest mineral and help reseparate it again.
And the size of feeding material should be 0.3-0.02mm.
spiral chute
could be polyurethane coating,the materisl could be
fiber glass
according to your order.
Working principle:
Spiral Chute is working under the the force of water flow, gravity, inertial centrifuge and friction. Slurry is pumped to the top of the spiral , and it enters a feed distributor that evenly distributes the feed to each spiral concentrator. The design and shape of the spiral make it work, when combined with gravitational acceleration. As the slurry travels the spiraling path down the spiral, mineral grains settle and start sorting according to size, density and to a lesser extend shape. Low density particles are carried with the bulk of the water towards the outside of the spiral , while particles with the greatest density migrate towards the inside of the spiral.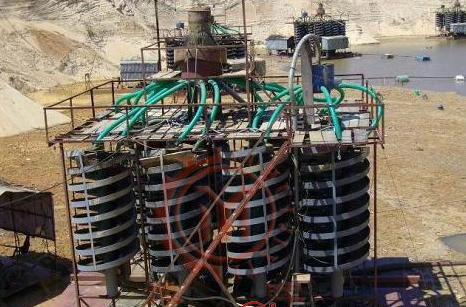 Advantages and features:
♥
Reasonable structure and small occupation area
♥
High recovery, high efficiency, and precise separation
♥
Non-required power
♥
Light in weight, anti corrosion, rust and wear resistant
♥
Simple installation and Minimal maintenance requirements
♥
Low operating cost and long working life
♥
Reliable running with minimal operator attention
♥
Strong adaptability to fluctuation of feeding amount, density, size and grade
♥
The surface of corundum forms strong friction the concentration effect surpass plastic surface
Main technical parameter of
spiral chute
Model

outside




diameter




(mm)

Inside




diameter




(mm)

Pitch of




screw

Span




ratio

Gradient




Number




of threads

Number




of turns

Max. feed




size




(mm)

Mine




density




(%)

Capacity




(t/h)

Area




(m2)

Height




(m)

DI2000

2000

2000

1200

0.6

9

2-4

3.5

0.04-4

20-40

15-45

5.7

6.8

DI1500

1500

1500

900

0.6

9

2-4

4

0.03-0.3

20-45

10-25

5.8

6.1

DI1200

1200

1200

720




540

0.6

9

2-4

4-5

0.03-0.3

30-50

4-6

2

5.23

L900

900

900

540




360

0.4




0.6

9

2-3

4-5

0.03-0.3

30-50

2-3

1.2

4

LI600

600

600

390




360

0.4

9

1-2

4-5

0.02-0.2

30-50

0.8-12

0.5

2.6

LI400

400

400

180

0.45

9

1-2

4-5

0.02-0.2

30-50

0.5-0.2

0.25

1.3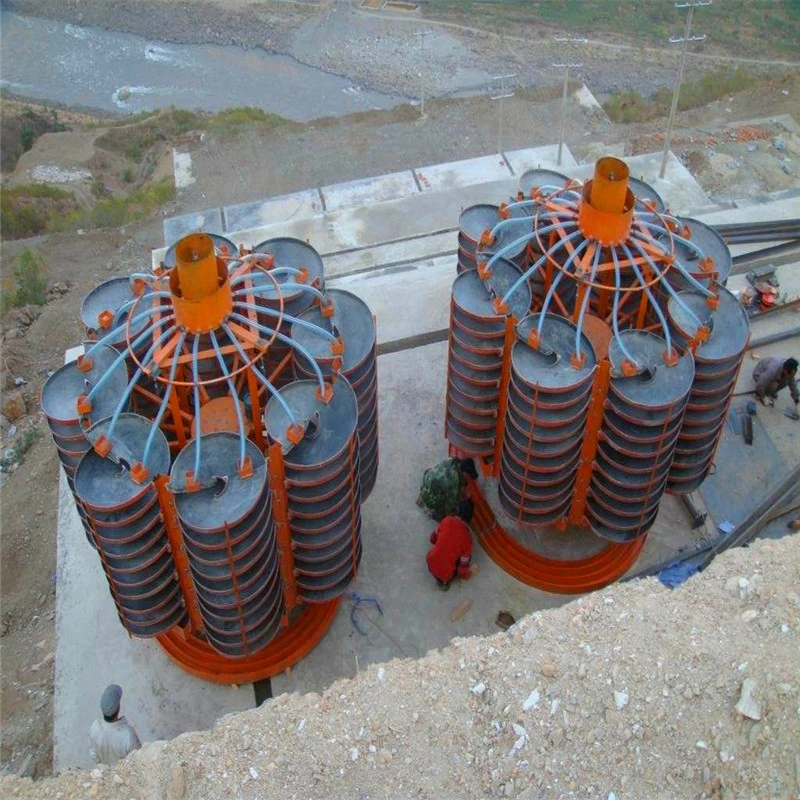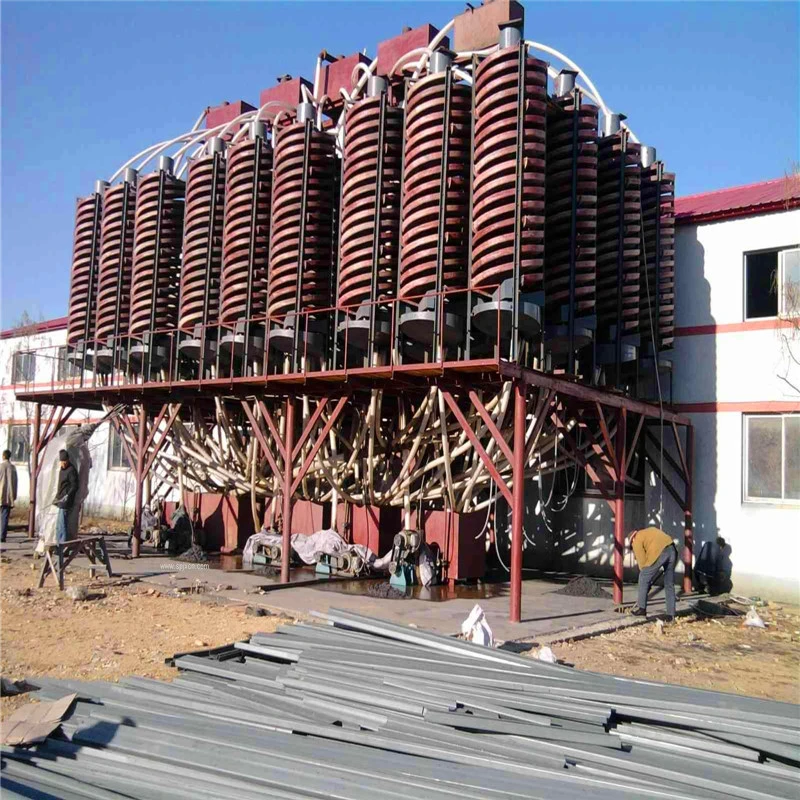 Other related products: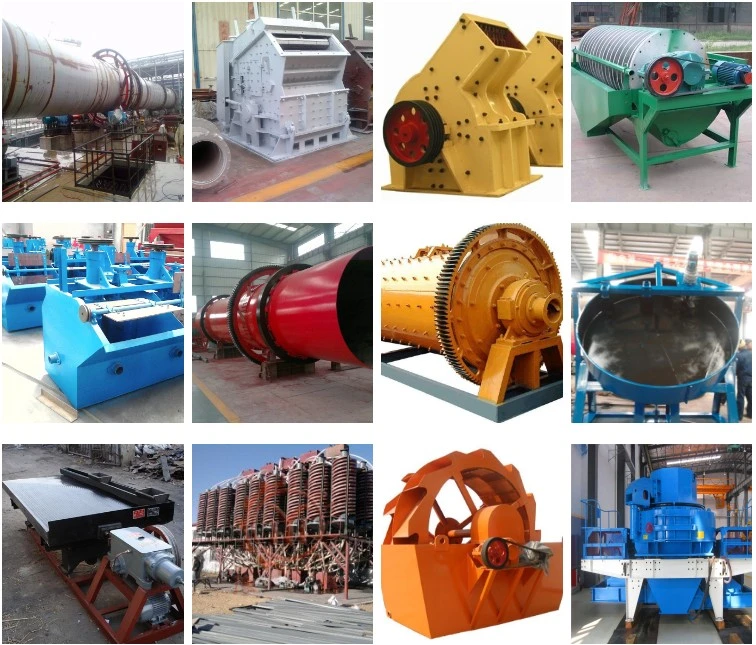 Our company:
Henan Yuhui Mining Machinery Co, Ltd. is located in Zhengzhou city in central plains, which adjoins to ancient millennium Shaolin Temple (Kung fu Origin) to the south, and Yellow River to the north. With Kailuo highway and Longhai railway, it owns convenient transportation and pleasant scenery.
Establis
hed in the 1970s, Henan Yuhui Mining Machinery Co.,Ltd. has developed into a famous manufacturer through 20 years struggling and progressing, specialized in producing mineral dressing equipment, compound fertilizer equipment, cement equipment, as well as sand making equipment.
YuHui provides a connected sequence service with designing process flow, on-site civil engineering guidance, installing and debugging the equipment, training technical and operating people for clients. The company guarantees repair, replacement and refund and is warrantable to the complete machine for one year. It supplies accessories for a long period. Welcome inquiries and purchase from both new and old customers as well as worldwide friends.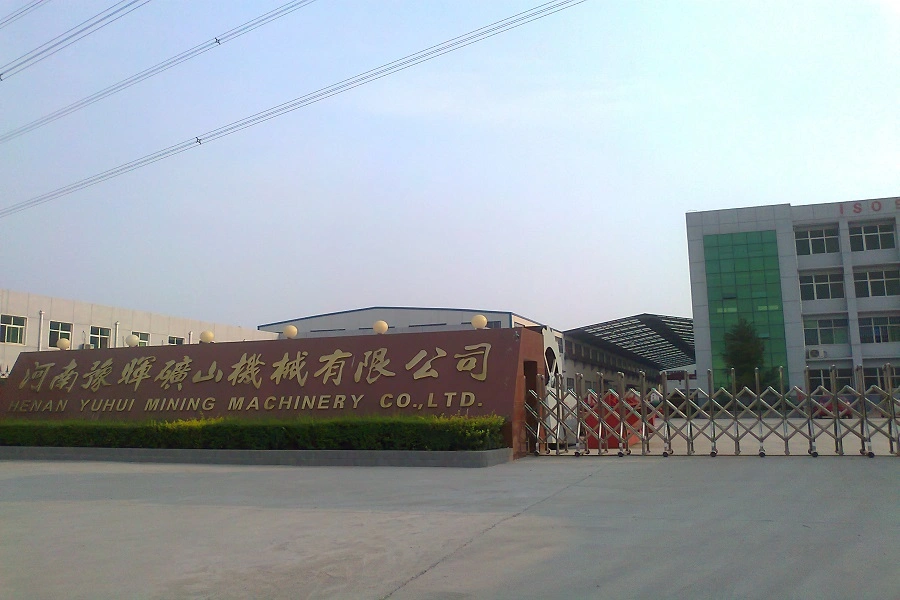 Our customers: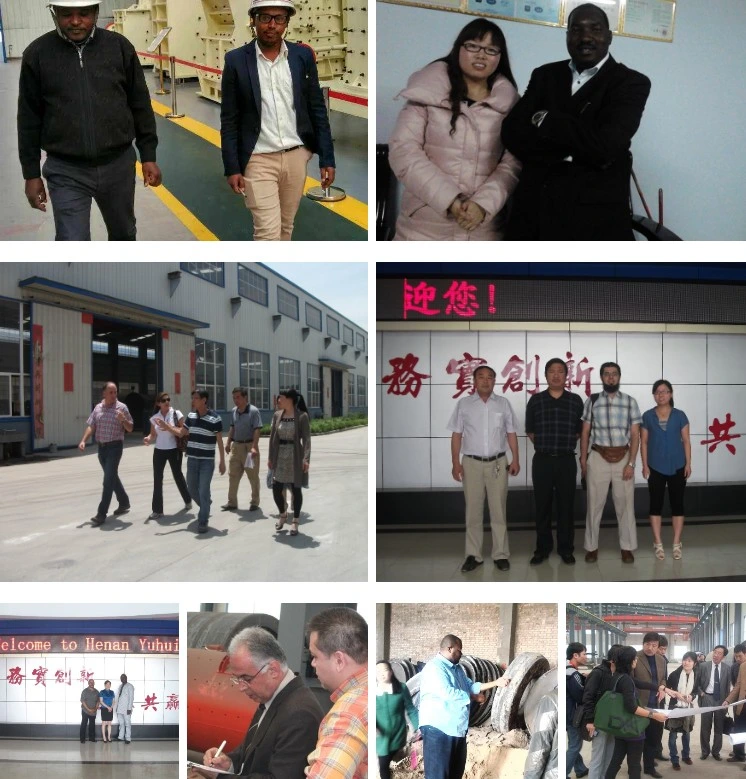 Each year we have the customers from world wide to our company for visit, like America, Malaysia, Indonesia, Philiphine, Sudan, Namibia, Zimbabwe, Zambia, Ethiopia, india, peru and so on.
Welcome to our company for visit.