2kg coffee roasting machine coffee bean roaster with artisan software coffee roaster
2kg gas/electric coffee roaster machine hot air coffee roasting machine
CQ-2kg is very suitable for home or small coffee shop to use .The whole machine adopts
lasercutting technology.
Using welding process to fix the whole frame.
It is more solid and stable than using ordinary screw to fix,
and not easy
to loose parts or structural deformation.The baking
machine can be connected with the
computer,
to achieve the output
of baking curve,bring more
accurate operation for your baking. Baking capacity from 0.5kg to
2.5kg all can be bake out of
the taste you want.
Model No.

2kg G

2kg E

Batch Capacity

0.5k~2.5kg

0.5k~2.5kg

Average Roasting Time

12-15 minutes

12-15 minutes

Production

8kg/hr (17.6lb/hr),64kg/day(141.1lb/day)

8kg/hr , 64kg/day

Voltage

Single Phase220V, 50/60Hz

Single Phase220V, 50/60Hz

Roaster Power

295W

5290W

Roaster Dimensions

1070*690*975mm (42.1*27.2*38.4 in)

1070*690*975mm

Roaster Weight

160kg

160kg

Package Dimensions

1170*770*870mm (46.1*30.3*34.3 in)

1170*770*870mm

Package Weight

185kg

185kg

Drum Construction

304 Stainless steel, Welded

304 Stainless steel, Welded

Heating Source

Natural Gas/ Propane

Electric

Gas Consumption

0.4kg/hr

/

Body Color

Black

Black

Housing cover color

Rose Gold / Black /Silver

Rose Gold / Black /Silver

Data Logger

Record roasting curve (USB or Bluetooth)
Advantages:
1. All bean contact body are made of High temperature resistant 304 food grade stainless steel.
2. Food level 304 stainless steel double drum with the mixing blades to ensure the best blending and even roast.
3. Non-stop roasting from 0.5kg-2.5kg and roasting and cooling can work at same time.
4. Both electric and manual controls of air flow to maximize coffee taste.
5. Data logger connect thermocouple and computer, can log by computer.
6. ADDKA Japan motor. Equipped with infinitely adjustable-speed system.
7. Cooling tray diameter"315mm, cooling wing length: 130mm.
8. Including cyclone dust collector and exhaust pipe.
9. Fuse and leakage protector.
10. Electric igniter.
1. Using OMRON thermostat. Display temperature is more sensitive and accurate.

2. Equipped with an OMRON timer, easy to check the baking time.

3. Electronic throttle control, through the knob to change the exhausting motor speed, so as to change the fan speed, to realize stepless control.

4.LED colorful stainless steel switch button. service life up to 50000 times . Not only beautiful and more easy to operate.

5.Large flame observation window, so that the baking room situation is absolutely clear.

6.The sampling handle using the best rosewood, with artificial mechanical design, make your grip more comfortable.

1. drum motor speed is adjustable,the range is 0~100 rpm.

2.The machine is installed with USB interface, can communicate with the computer.

3.The machine shell has three colors:golden,black and sliver for you choose.

1. Gas pressure control: Gas pressure meter is equipped with 304 stainless steel needle valve,can achieve more accurate gaspressure adjustment.

2.Detection of flame extinction: The ignitor will be automatically fire up ifthe flame goes out when you are baking Solenoid valve will shut off gas automatically and the buzzer will start to ring if there is no flame in 10 seconds.

1. Coffee bean feeding device adopt 304 stainless steel materials,can ensure food safety. Just gently stir,coffee beans can quickly fall into the drum.

2. With coffee beans observation window, can observe the coffee beans at any time when you baking.

3.Humanized design of cooling plate is easyily to operate.

4. Independent cooling fan with the mixing arms,can quickly cool the roasted coffee beans.

1. Insulation layer. There is a 30mm thick insulation layer to reduce temperature loss.

2.Burner :using high efiency energy--saving fumace head,the fire is more powerful, and more economical to use. Maximum heating rate is 20 degrees / min,to meet the changing needs of the baking.
2kg coffee roasting machine coffee bean roaster with artisan software coffee roaster
Henan Chuangqin Mechanical Equipment Co., Ltd. We are an one-stop coffee supplier who can offer coffee grinder,coffee feeder,coffee de-stoner,sealing machine,filling machine,,coffee bean bag,coffee machines and other coffee related stuffs, just call us now if you need any of them.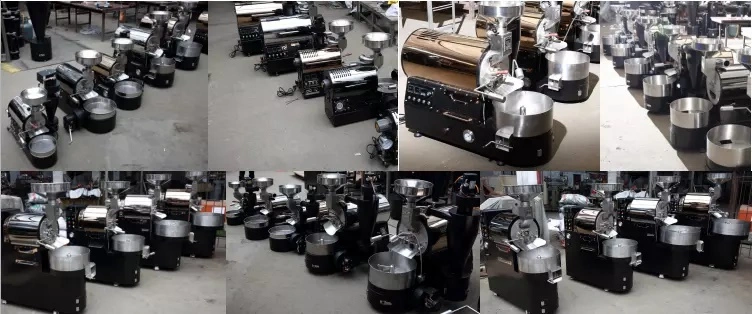 Fixed in Standard export Plywood carton.
Machine surface protection, plastic fastening.
Manufacturer logo printed on the outside of package.
30% deposit when placing order, 70% balance paid before shipment.
7 days after receipt of balance payment.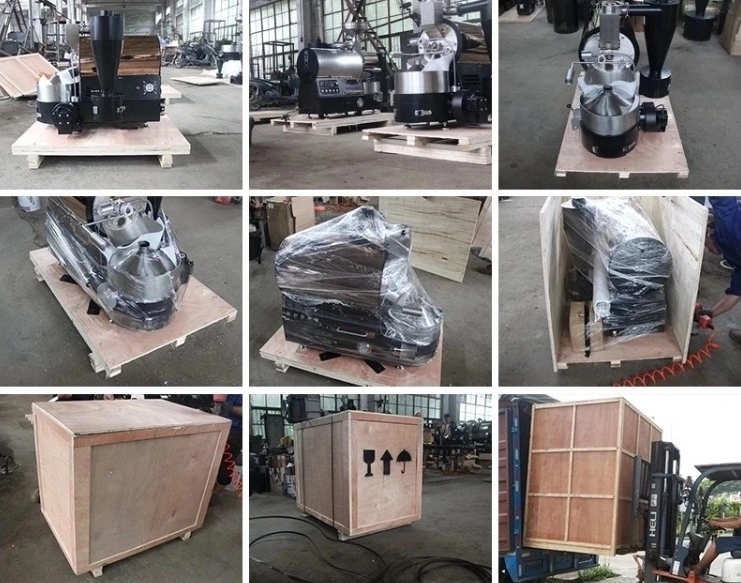 1. Are you the manufacture factory or trading company?
We are the manufacturer
2. How can we visit your factory?
Our factory is located in Henan Province, China, you can take airplane to Zhengzhou airport. We will pick you up from airport.
3. What is your main products?
Our main products : 300g-3kg small commercial roaster/ 5kg-60kg industrials automatic coffee roasting machine/ coffee grinder/ packing machine.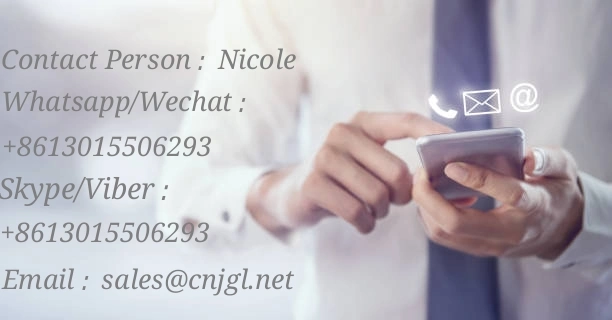 2kg coffee roasting machine coffee bean roaster with artisan software coffee roaster