Gravity separator types grain seed for seeds separation table-5XZ-8.5AM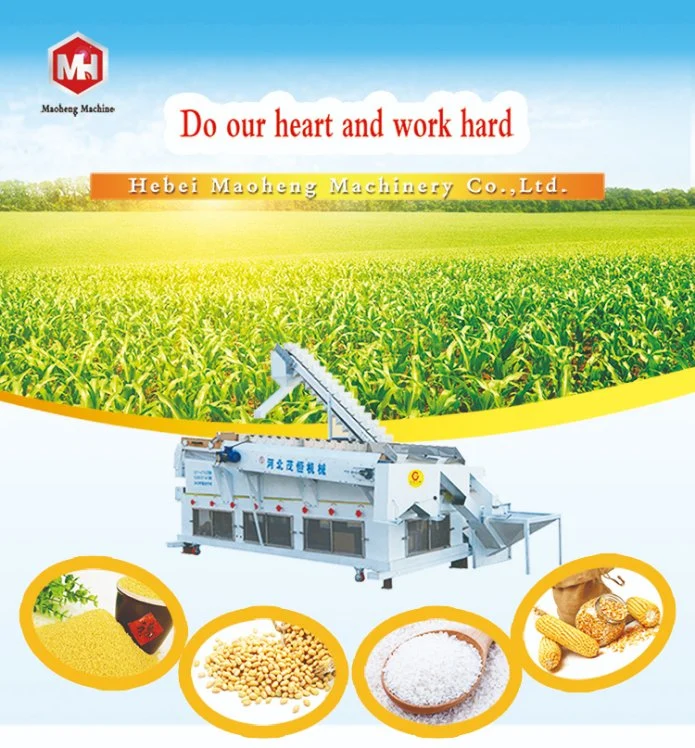 Application:
The equipment is based on the principle that the material is deflected under the action of aerodynamic force and vibration friction. By adjusting the technical
parameters such as wind pressure and amplitude, the material with larger density will be at the surface of the gravity table, and going to the higher end, materials with low density will be suspending on the surface and go to the lower end of the table, thus achieving the purpose of gravity separation.
The machine is suitable for processing mung bean, red bean, cowpea,soybean, corn, sunflower seed and other miscellaneous grains. Impurities can be screened according to grain size, dry humidity.
The machine is not subject to site restrictions and can be used in general processing.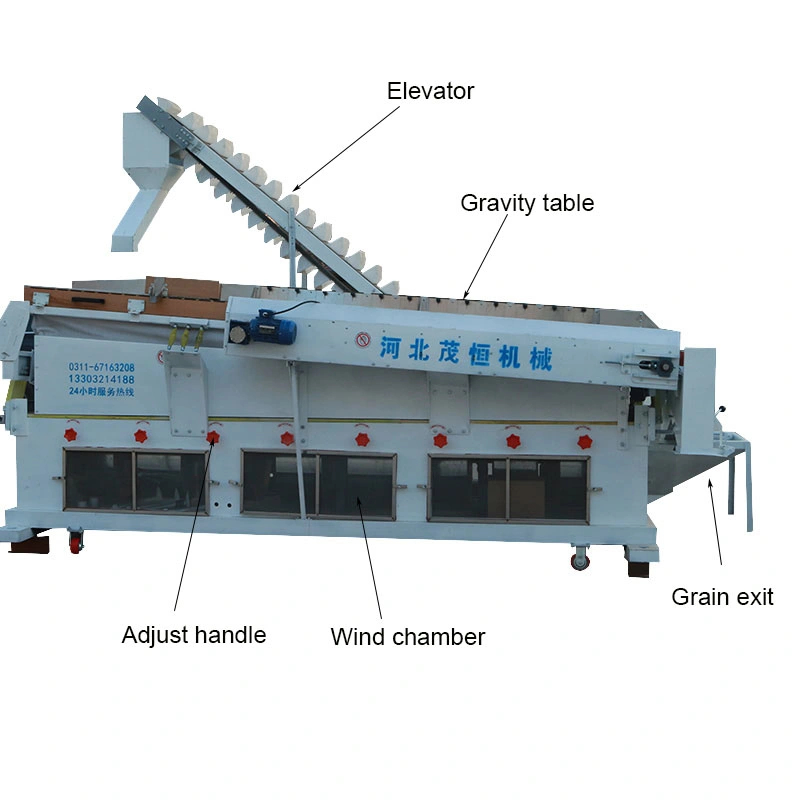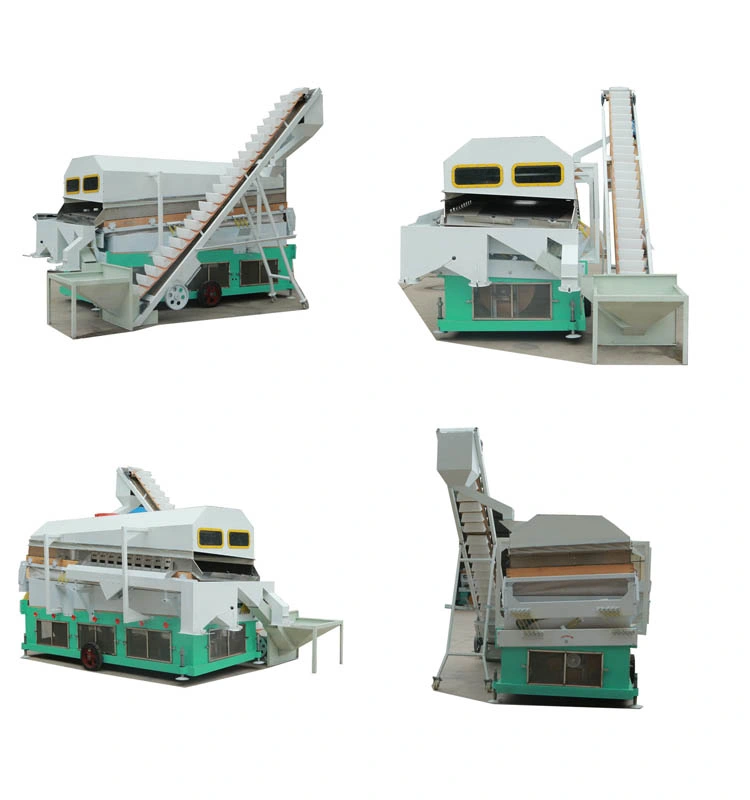 Sepcification:
| | | | | | | |
| --- | --- | --- | --- | --- | --- | --- |
| Model | Power(Kw) | Sieve size(m) | Capacity | Overall Size | Weight | Remark |
| 5XZ-7.5M | 7.5+1.5 | 1.48*3.25 | 6-7t/h | 4.07*1.92*1.9m | 1550Kg | |
| 5XZ-7.5AM | 7.5+1.5+0.2+0.75 | 1.48*3.25 | 6-7t/h | 4.07*2.045*1.9m | 1700Kg | with side grain outlet |
| 5XZ-8.5AM | 11+1.5+0.2+0.75 | 1.48*3.65 | 7-8t/h | 4.47*2.045*1.9m | 1850Kg | with side grain outlet |
Funtion and features:
1.Processing beans or grains of the same size but different specific gravity, removing litchi, twigs, hemp rope, dust, broken beans or grains.
2.The machine is not subject to site restrictions and can be used in general processing.
3.According to the size and humidity of the grain particles,the frequency can be adjusted by frequency conversion.
4.Mostly, this model is used with the entire set of equipment. For example,cleaning machine, polishing machine, magnetic de-soiler, grading machine,and it also can processing the grain itself.
Applicable kinds of materials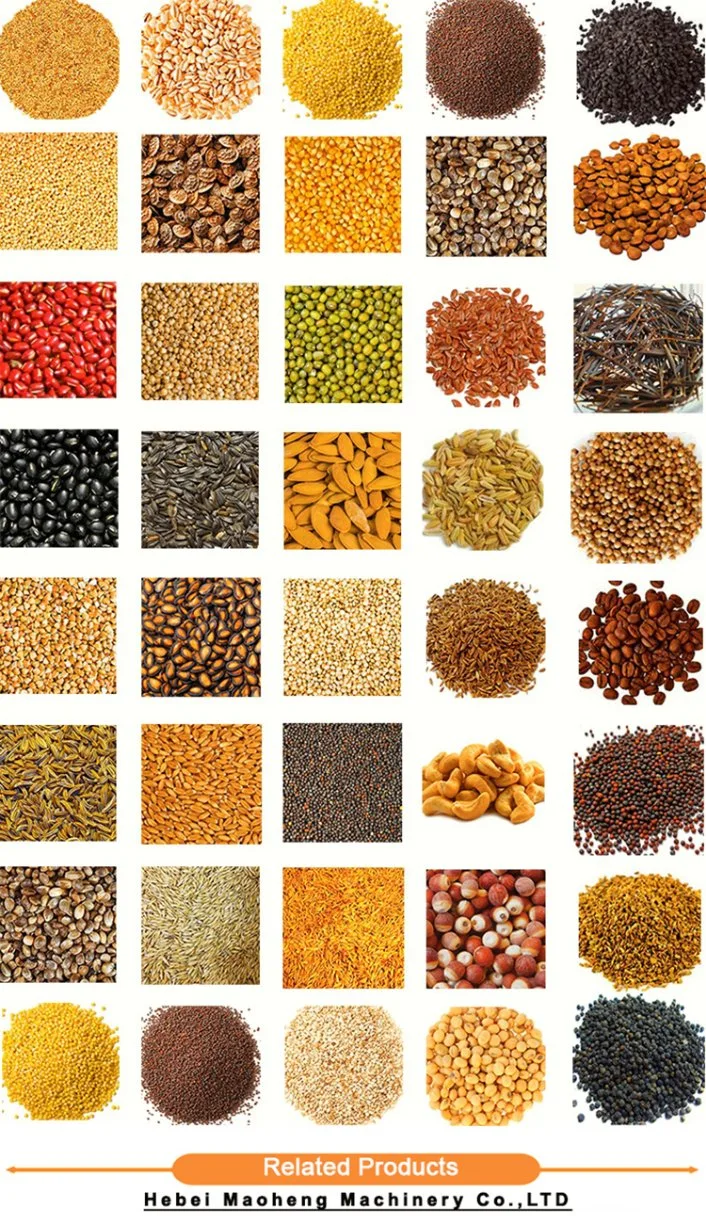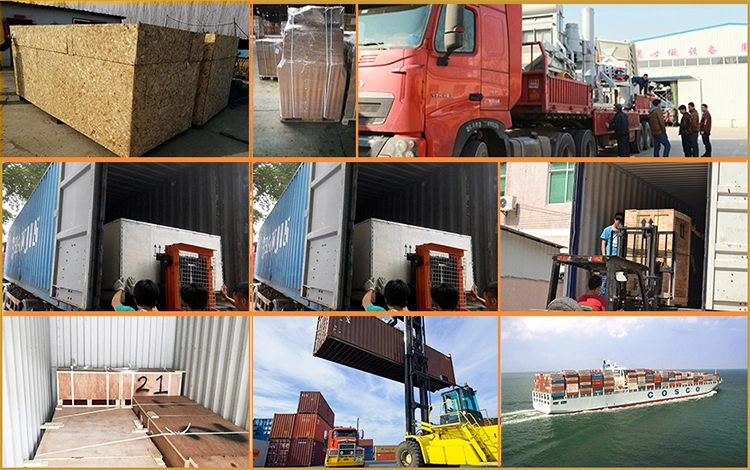 Market Distribution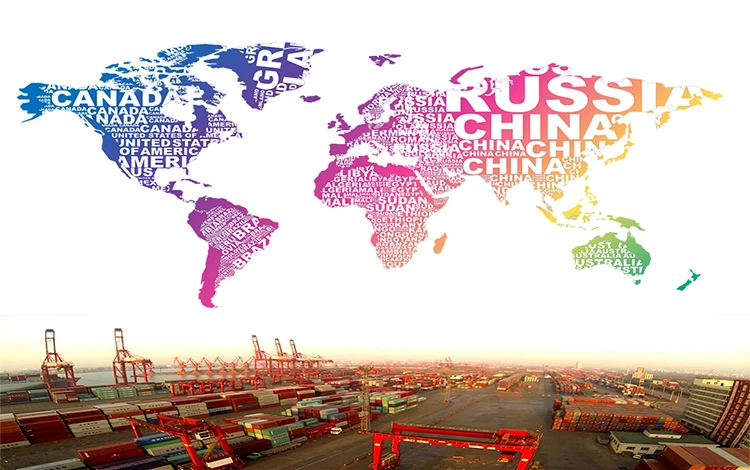 Why Choose maoheng:
1.obtained ISO9001 quality management system certification and national AAA level enterprise standardization good behavior confirmation.
2.Adopting advanced mechanical automation and intelligentization instead of traditional manual operation saves labor cost and greatly improves production efficiency.
3.The machine conforms to the ergonomic principle, the use of more time and energy saving, more convenient and fast operation.
4.Safety protection, the machine itself with leakage protection, safe operation and use.
5.Quenching processing technology, improve the hardness, strength of the metal workpiece, strengthen the ability of compression and corrosion resistance, improve the service life of the equipment.

6.Focus on customer demand is committed to the construction of "industry-university- research" and innovation system.
About Us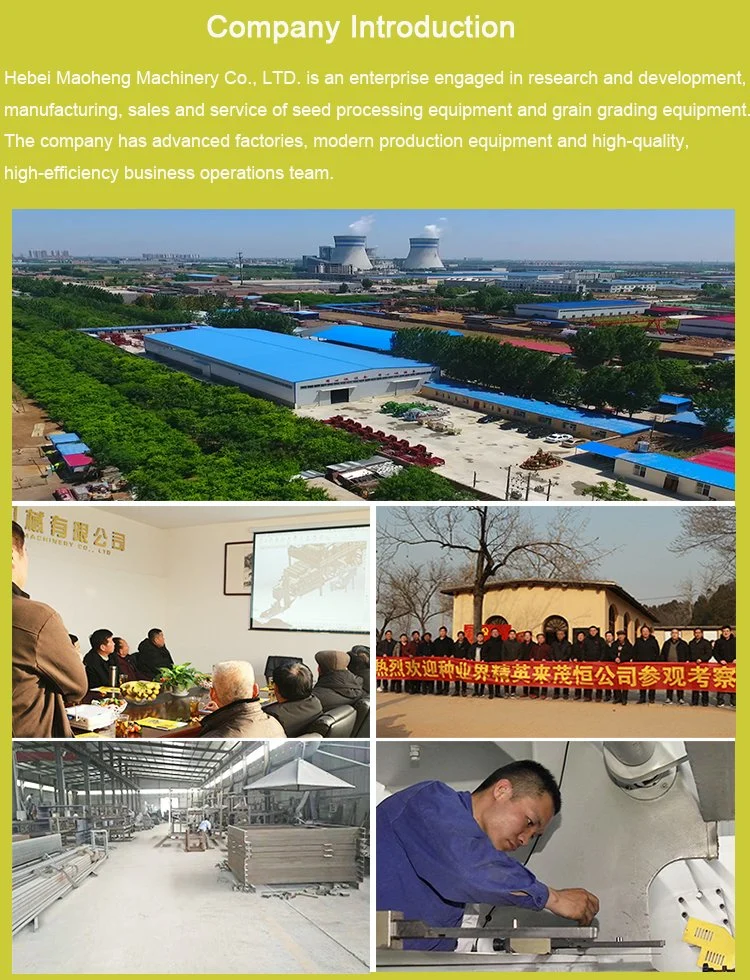 Company Qualifications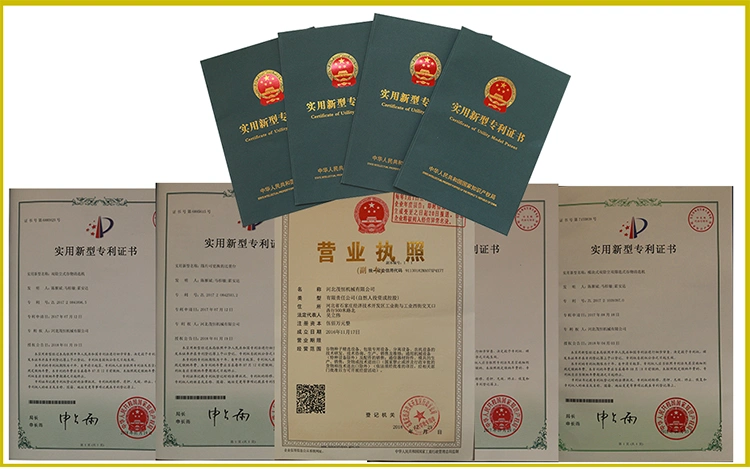 Exhibition Event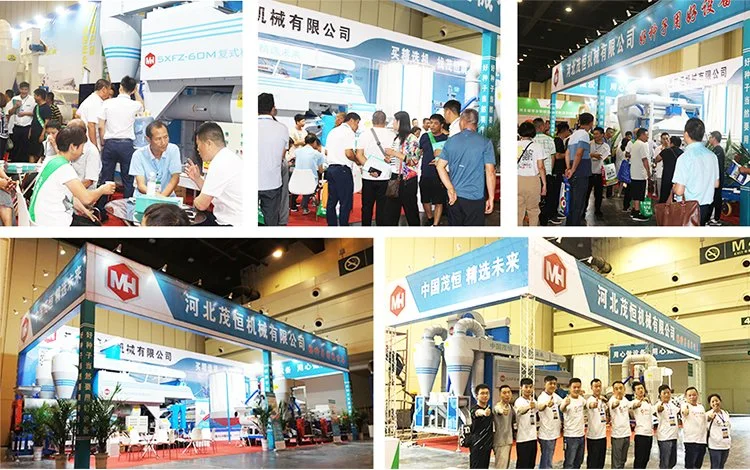 FAQ
Q: Are you factory or trading company?
A :We are professional manufacturer for grain cleaning machine and We have 16 years of production and sales experience.
Q: What do you need to know for fast communication and quotation?
A: It would be highly appreciated if you can provide details of your processing material specs, capacity and efficiency request, screen specification, motor power supply voltage and special brand needed, and other working conditions.
Q:Can One Machines work on different seeds?
A:We also use individualized, seed specific settings on our machines to limit unwanted scarification. We provide number screens to be fitted on single machinery to our work on different variety of seeds.
Q: How long will the products be shipped to me?
A:About 10 to 40 days by sea,depend on which country you are in and the type of machine and parts availability.
Q: What is your payment terms?
A: T/T, L/C, Western Union, Cash accepted.
30% deposit with purchase order, 70% balance paid before shipment.
Q: Where is your factory and how can I visit?
A:The factory address:CN,Hebei,shijiazhuang,South of Nanxicun Village,ETDZ:
From Guangzhou Baiyun international airport to Shijiazhuang international airport need about 3hours then drive to my factory(1hour)
From Beijing Railway station to Shijiazhuang Railway station need about 2 hours,then drive to the factory (30 minutes)
From Hongkong International airport to Shijiazhuang international airport need about 5 hours,then drive to the factory(1 hour).