portable rust removal fiber laser cleaning equipment cleaning system for metal cleaning (distributor wanted)

(LBQX-600)
Laser cleaning equipment is high-tech product for a new generation of surface cleaning.
Clean resin, oil, stains, dirt, rust, coating, plating, paint on metal surface by removing the surface coating without chemical reagent, medium, dust, water. .
Workable on both flat and curved surfaces.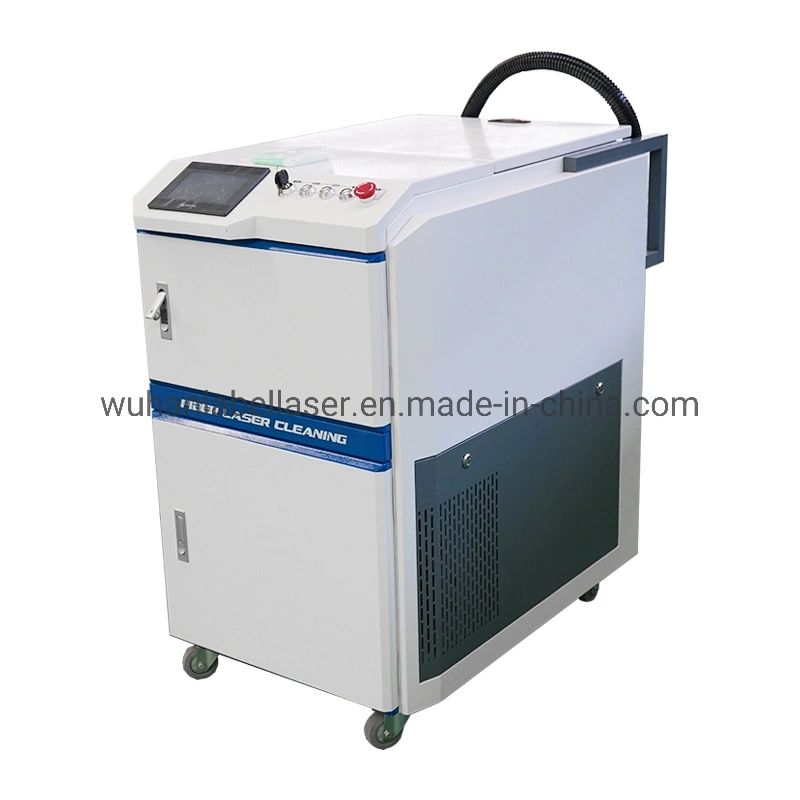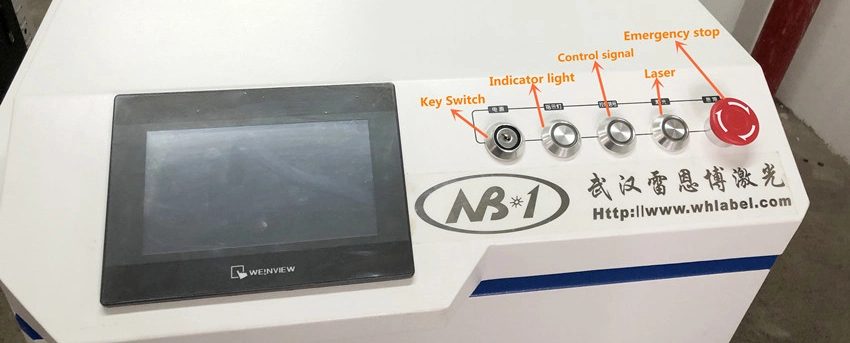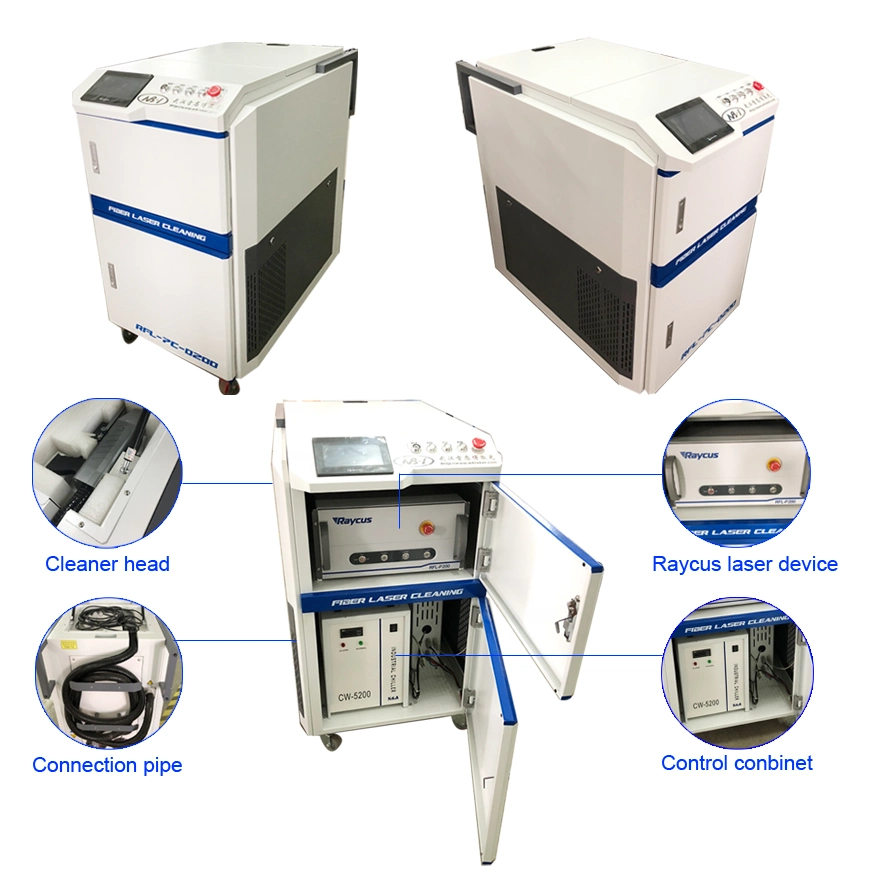 Product
features:
Non-contact cleaning,no damage for parts.

Precisely work on the selected location and size

No need any chemical cleaning agent,no consumables,safety and environmental friendly

Simple operation: Power on,automatic cleaning can be realized by hand or cooperating with manipulator.

High cleaning efficiency

Clean

ing system is stable and requires almost no maintenance
Application Fields:
Shipbuilding industry

Auto parts

Rubber mold

High-end machine tools

Tyre mould

Railway

Environmental protection industry

Others
Cleaning Samples: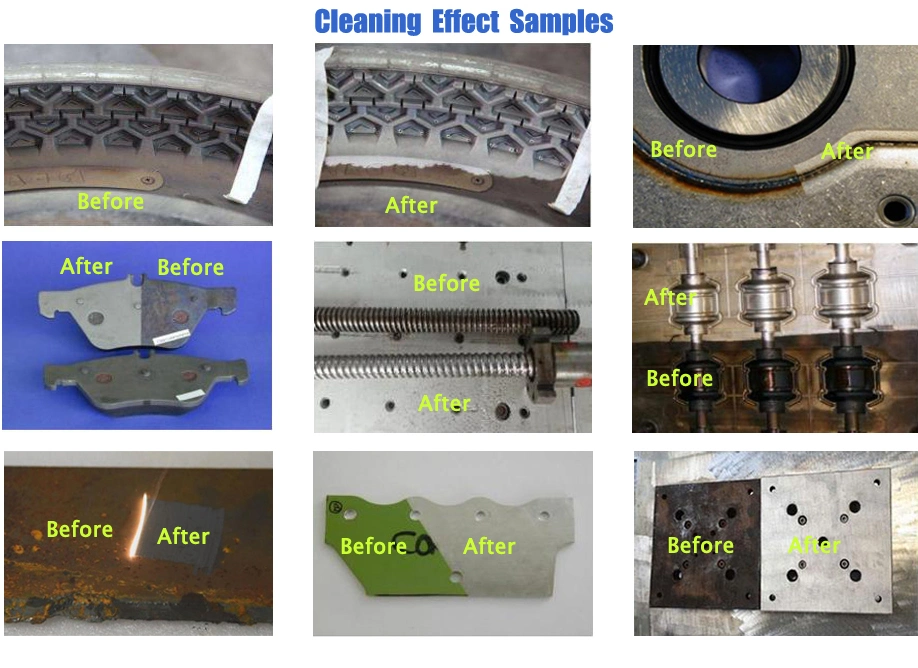 Mechanical Parameter:
| | |
| --- | --- |
| Item | Parameter |
| Size | 670mm×1100mm×1150mm |
| Weight | 150KG |
| Fiber Length | 5m(or 10m for custmized) |
| Weight of cleann head | 2KG |
| Movable Mode | Hand Push |
| Scan width | 10-80mm |
Optical Parameter:
| | |
| --- | --- |
| Item | Parameter |
| Average output power | ≥200 W |
| Non-stable Degree of Output Power | <3% |
| Power Adjustment(%) | 10-100(gradualness) |
| Focus Facula Diameter | 0.1 |
| Central Wavelength | 1064 |
| Modulation Frequency | 10K-50K Hz(gradualness) |
| Cooling Type | Water Cooling |
| Working Temperature | 5ºC~40ºC |
Advantage Comparison
Item
Laser Cleaning
Chemical Cleaning
Mechanical Polish
Dry Ice (CO2) Cleaning
Ultrasonic cleaning
Cleaning Method

Laser and non-contact type

Chemical agent,




Contact Cleaning

Mechanical/ abrasive paper, contact cleaning

Dry Ice (CO2),




non-contact type

Cleaning agent,




Contact type

Hurt for workpiece

No damage

With damage

With damage

No damage

No damage

Cleaning Efficiency

High

Low

Low

Medium

Medium

Consumable

Just with Electricity

Chemical cleaning agent

abrasive paper grinding wheel, oilstone

Dry Ice (CO2)

Special Cleaning Agent

Effective

Excellent with high cleanliness

Common,




Non-uniform

Common, Non-uniform

Excellent ,




non-uniform

Excellent ,




small cleaning area

Accuracy

Precise Control, High Accuracy

Non-control,Lowe Accuracy

Non-control,Common Accuracy

Non-control,




Low Accuracy

Can not clear in special place

Safety / Pollution

No Pollution

Environment Pollution

Environment Pollution

No Pollution

No Pollution

Handling by workers

Simple Operation,




Handheld / Automation

Complex process,It is with high requirement for operator, must have preventive measure

With much labor cost and must have preventive measure

Simple Operation, Handheld / Automation

Simple Operation,




consumables is must

Cost Comparison

High first Investment , No consumables ,




Low Maintenance Cost

Low first investment, Extremely High Consumables cost

High first Investment, high consumables cost & high labor cost

Medium first Investment, high consumables cost

Low first investment, Medium Consumables cost
Work Flow: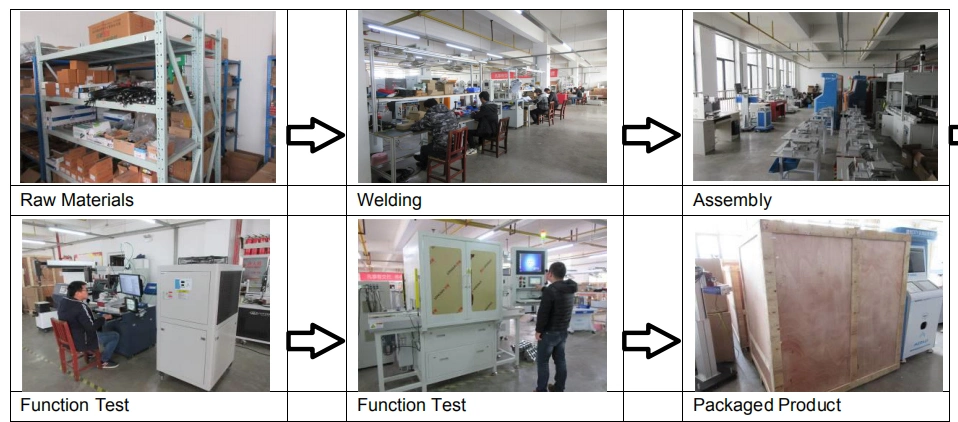 About us Lable Laser :
Wuhan Label Laser Science and Technology Co.,Ltd
is a hi-tech corporation located in China Optics Valley in Wuhan City.
It has been specialized in researching and manufacturing industrial Laser marking equipments and supplying marking solutions for customers all over the world since established in 2000.
Why choose us Label Laser ??
20 years of researching and manufacturing experience
Advanced technology, researching and development group
More than 4000+ successful cases of marking solution accumulated in domestic and oversea markets
100% QC
Utility Model Patent Certificates,involved 3M Flexible label paper marking,Nameplate Auto marking ,Engine cylinder block and head pass-type auto marking,Automobile forged wheel hubs pass-type auto marking, copyright of computer software,etc.
ISO,CE,SGS certified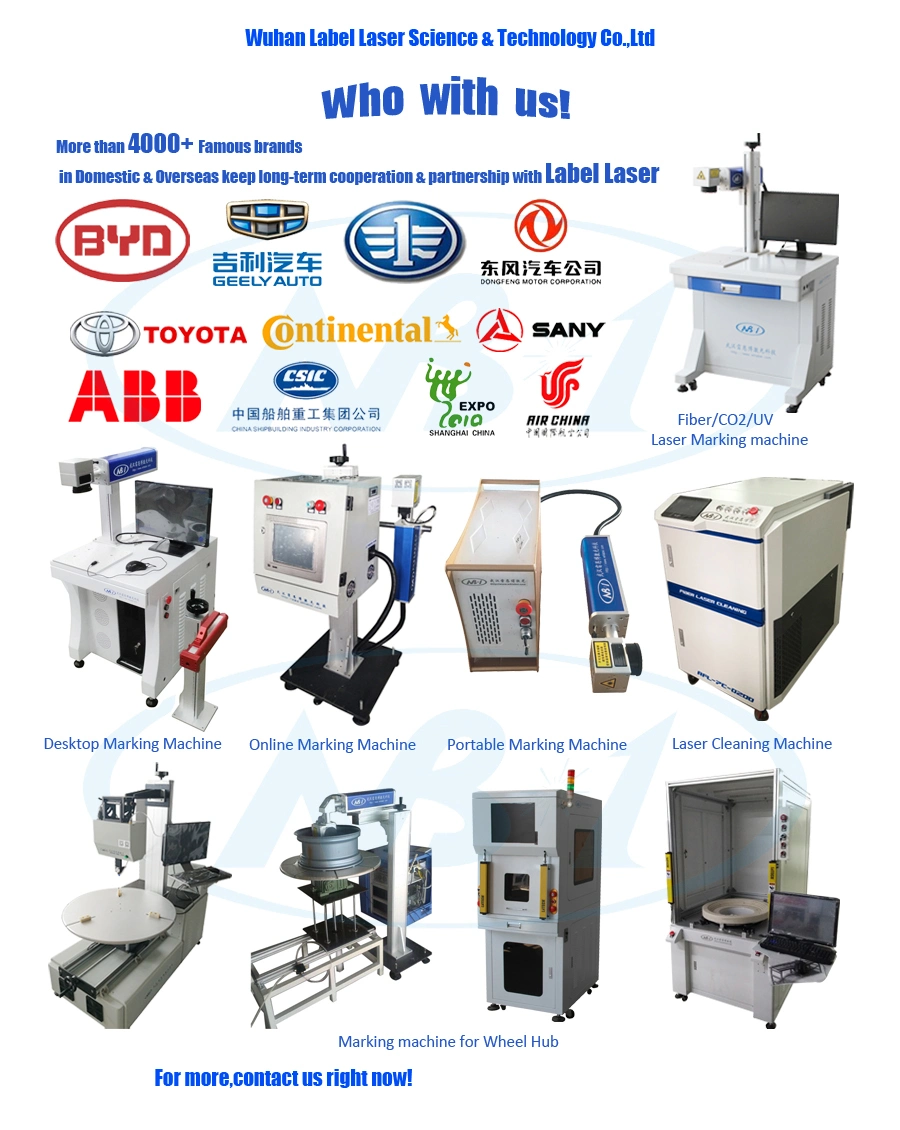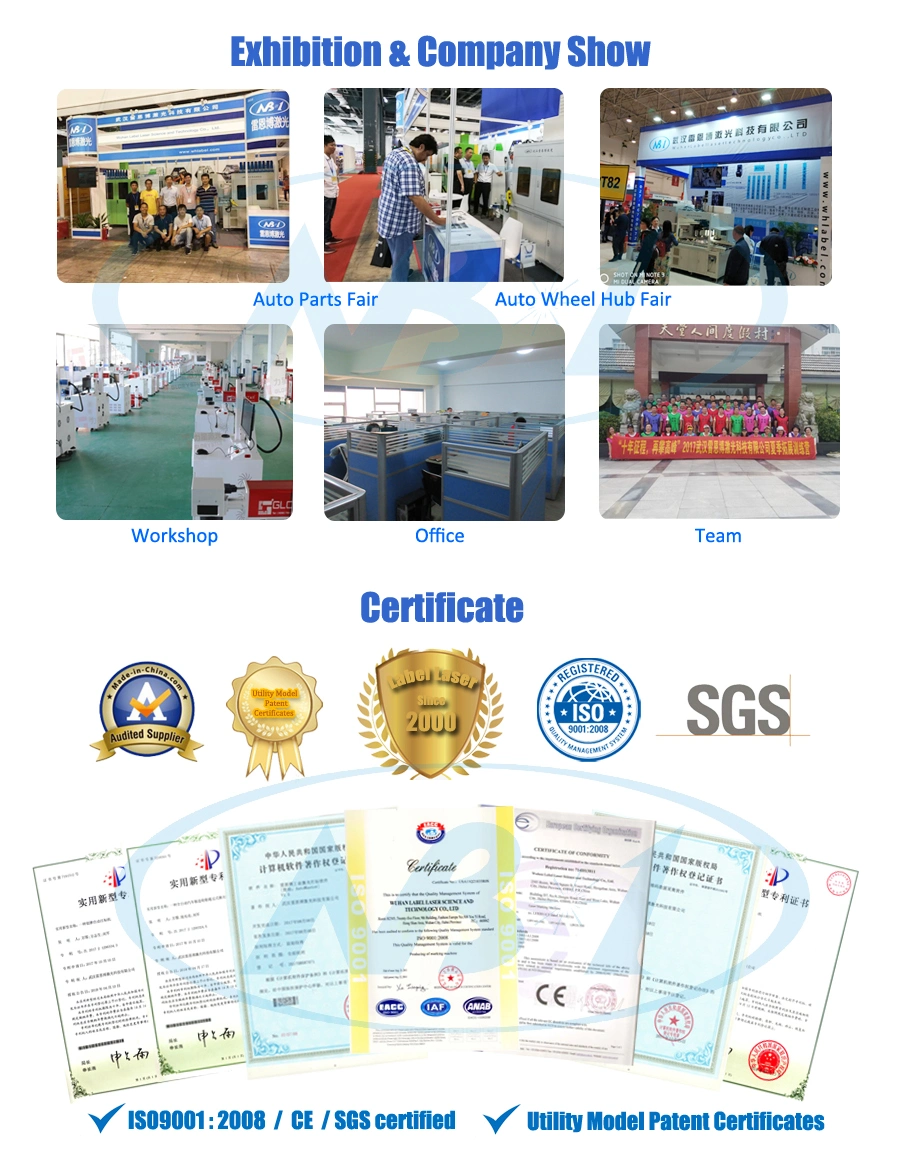 Packing & Shipping:
- Packing :
Anti-collision foam + wrapping film+ Export standard wooden case.
- Shipping:
Main transportation method: by sea.

Other Option: by air or railway transportation.


FAQ:
Q: What's laser cleaning marking ? And how laser cleaningg machine works?
A:
Laser cleaning is typically a delicate process of creating a depth by removing the surface material, and acheieve the aim of rust removal
. The laser cleaning systems at Label Laser are designed for non-contact processes. They offer better and more reliable solutions in terms of stability and deformity.
Q: How to operate the machine? Is training necessary?
A: Laser cleaning machine is Automatic running, easy to install, control and operate.
Operation manual with pictures will be provided .
Generally speaking, an operator, who is not familiar with laser cleaning machine can still operate it very well.
Q: In case machine exists the problem, how to do after sales service?
A: One-year warranty of the whole machine. Free to maintain if any problems during this period.
Also we will assist you to solve problems in the future.
Q: Is it possible to add customized protection cover?
A: Yes, customized protection cover is acceptable.
Q: Any consumables for fiber laser cleaning machine?
A: No consumables. It's very economical and cost-effectient.
Contact Us:
Any questions,please feel free to contact Ms. Jessica online or throught below methods right now!
We will get back to you ASAP within 24 hours.